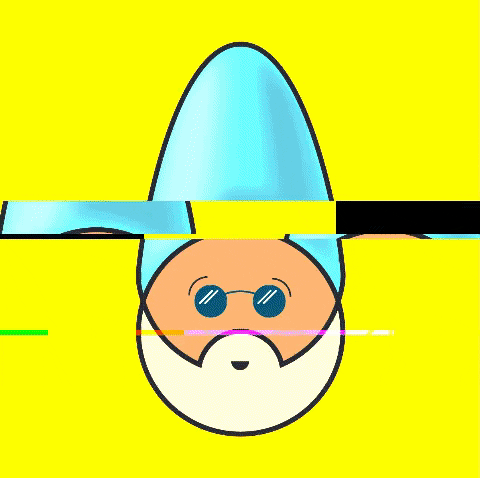 GnomieZ - A pixelated multiverse of Gnarly Gnomies with the chance to win a Degen Ape
SECONDARY MARKET ON MAGICEDEN & EXCHANGE: https://linktree.com/gnarlygnomies
-
What's the deal here?
TLDR: WE ARE BUILDING A BEAST OF A BRAND & GNOMIES ECOSYSTEM.
MINT A FUN TRADITIONAL PFP PROJECT, WITH THE CHANCE TO WIN A DEGEN APE
--
Full story: The Gnarly Gnomies are a limited supply 1/1 handmade NFT collection (100 supply). However, recently the gang fell into a pixelated multiverse full of GnomieZ!
The GnomieZ are a limited time 0.22 SOL mint cost collection that is a blend between a traditional PFP project as well as a giveaway chance to win a blue chip NFT upon hitting FULL sellout.
We hope this allows people to have the fun of a PFP project, while also giving the chance to anyone to win a Blue Chip NFT Collection (Degen Ape).  For as little as 0.22 SOL you can have the chance to change your life with a Blue Chip NFT, and if not, you still get a pretty awesome NFT project and PFP for low entry cost. A win for everyone.
The GnomieZ will be full of traits and rarities like a traditional PFP project, but upon sellout there will be a random generator to choose the winning Gnomie. From there,  we will airdrop a special Blue Chip Gnomie that we ask to be returned to our wallet to confirm activity - where we then will drop the Blue Chip NFT!
Mint Day
Mint date is 11/7 23:30 UTC.
It's important to follow us on Twitter & Discord for more information prior to minting. We want to ensure the RIGHT PEOPLE are in our community, not quick flippers.
The Roadmap
SO what's the plan between Gnarly Gnomies & GnomieZ?
Q3'21 Gnarly Gnomies Limited Supply GEN1
Gnarly Gnomies limited supply GEN1 collection released (35 supply + SE/CE/Marketing. Officially listed NFT partner on the Solana ecosystem page.
Small tightknit community built and established, with secondary market listings on MagicEden & DigitalEyes.
These original Gnarly Gnomies holders are GRAPE verified and will receive exclusive benefits.
Q4'21 GnomieZ Multiverse
The Gnarly Gnomies have fallen into the Pixel Multiverse!
0.22 SOL mint of GnomieZ, giving away 1 Degen Ape NFT Consider this extra incentive for us all to bond together and build from the ground up via viral marketing.
GnomieZ will be listed on ME/Exchange for secondary.

GRAPE verified Gnarly Gnomies holders will reap special benefits for the GnomieZ mint
A Degenerate Ape will be given away in Q4'21 to holders. Unannounced date, Ape already purchased and in treasury wallet.
Q1'22 Gnarly Gnomies Gen2 & GnomieZ Growth
WE HAVE A COMMUNITY! Let's lead it together, Gnarly Gnomies AND GnomieZ holders.
Gnomies GEN2 will be released for additional Gnomies community members. Specific utility tied to NFT Staking towards that collection, with trade in & burn functionality for GEN1 holders.
Brand Utility Partnerships:
BitBrawl:
BitBrawl is an online PVP game of SOL (think Super Smash Bros). You'll be able to brawl online with a Gnomie as a playable character on over 10 hand drawn maps. https://www.bitbrawl.io/game29255313
Solamids:
Solamids is a pyramid with 21 floors and 4914 unique apartments (Solamids) which vary depending on the rarity system of the Solamids collection. All of this is going to be implemented in a Metaverse which will enable Solamid owners unprecedent possibilities of monetization like renting or upgrading their property. Buy, own, rent & earn.
ChillChat:
1,500 completely unique NFTs. Handcrafted and animated collectible characters that will create all future generations of Chillchat Characters that trace to their Origin Lineage. Origin of Gnome will feature a Gnomie, sky is the limit here! https://www.chillchat.me/

Solseum:
Solseum™ is a museum for NFT Collections for the entire Solana Blockchain. They are creating a new VR metaverse where you, your friends and other Art Enjoyers can interact with 3D GnomieZ as featured characters! https://www.solseum.com/

Rumble World:
Rumble Worlds is a metaverse, mash-up game that brings together everyone's favourite party games and NFT collections to the Solana blockchain. 3D Gnomie models will be a playable character! https://www.rumbleworlds.io/

Frog Party
Frog Party is a fun top-down online game, with a fun demo already available on their site! Within the game, there will be rewards such as yielding their $LILYPAD token. GnomieZ will be a playable character in the game! https://www.frog.party/
Q2'22 on GEN3 Gnarly Gnomies, GEN2 GnomieZ raffle, Merch, Product
Larger overall product development tied to concept, details unannounced!

Sir Gnarl Gnomie (@SirGnarlGnomie)
The Gnartist (@thegnartist1)
Novalaunch (novalaunch.art)
Frequently Asked Questions
How does this work?
This is a blend of a traditional fun low cost PFP project and a chance for a giveaway of a blue chip NFT amongst holders. There will be GnomieZ minted with a bunch of attributes and rarities!
We will livestream autogenerate a number that will be the winning number. We will then airdrop a blue chip Gnomie to that holder which we ask to be sent back to us to confirm being active. Once we receive it back, we will airdrop the blue chip project NFT.
Which Blue Chip NFT project will be raffled?
This will most likely be either a Degen Ape or Thugbird that will be given away, but final details pending.. Again important to note this depends on how mint sellout goes.
Wen Mint?
What about the standard original Gnarly Gnomies?
The Gnarly Gnomies are an official Solana ecosystem limited supply (35 GEN1 dropped) project of all 1/1 handmade NFT's. Gnarly Gnomies are still continuing business as usual.
Gnarly Gnomies holders can be considered VIP and will receive an airdropped GnomieZ and rewards from GnomieZ mints!
NOTE: All Gnarly Gnomies holders in Discord are GRAPE verified. You MUST be GRAPE verified to reap benefits. We're unable to track you down otherwise. This also means your Gnarly Gnomie must be delisted or GRAPE will not recognize you as a holder.
GG can be purchased on secondary markets DigitalEyes & MagicEden.
What secondary markets will you list on?
We're lined up for MagicEden and DigitalEyes. This is to stay consistent with our Gnarly Gnomies marketplaces.
What is supply/mint price?
2,035 supply of GnomieZ at 0.22 SOL mint.
What is an NFT?
Non-Fungible Tokens are unique, easily verifiable digital assets that can represent items such as GIFs, images, videos, music albums, and more. Anything that exists online can be purchased as an NFT, theoretically.
NFTs are different from cryptocurrencies because they're not interchangeable. Think of Pokémon cards: You can trade them, but a Gastly is not the same as a holographic Charizard. But a bitcoin is indistinguishable from another bitcoin.
Why would I want to own an NFT? Can I make money on it?
One reason to buy an NFT is for its emotional value, which isn't so different from physical objects...unless you're a total utilitarian. No one buys lip gloss because they need it. They buy it for the way it makes them feel. The same can be true for a GIF, image, video, or other digital asset.
The other reason is because you think it's valuable...and will only increase in value. And yes, you can make money off of an NFT by buying and reselling it for more.
How do you know your NFT is authentic?
NFT ownership is recorded on the blockchain, and that entry acts as a digital pink slip. Our NFTs will be encoded using Metaplex's smart contract on the Solana Blockchain.
Which wallets will I be able to use to mint an NFT?
We offer a number of wallet connections for minting, but Phantom is the recommended wallet.
How can you ensure distribution of mints is random?
We will be using a smart contract deployed on the Solana chain to distribute the GnomieZ MINT. The tokens can be verified on the blockchain and our smart contract code can be audited by the Solana core devs.